There's a lot of confusion among weightlifters about how deep to squat.
Some argue deep squats are harmful to your knees and unnecessary from a muscle and strength gain standpoint.
Others have the opposite stance, insisting deeper squats are perfectly healthy for your joints and essential to maximize muscle growth, strength gain, and athletic performance. 
In this article, you'll discover who's right.
You'll learn what "squat depth" is, what deep squats look like, the benefits of deep squats, proper deep squat form, how deep to squat for your goals and body type, and more.
What Is "Squat Depth?"
"Squat depth" refers to how low you go during a squat.
It's measured by the angle your knees make at the bottom of the movement. 
A "parallel" squat is a squat that involves lowering your body until your thighs are parallel to the floor, which occurs when the crease of your hip is the same height as the top of your knees.
A "deep" or "full" squat typically involves lowering your body until your hips are below your knees (a knee angle of less than 90 degrees). Very deep squats, often called "ass-to-grass" squats, are where you lower your butt as close to the floor as possible (generally bending your knees more than 120 degrees).
A "quarter" squat involves lowering your butt just 6-to-8 inches (until your knees are bent to about 45 degrees), while a "half" squat is when you lower your butt around 8-to-12 inches (until your knees are bent to about 90 degrees).
Proper squat depth can vary based on individual factors such as flexibility, mobility, body proportions, and strength goals.
Find the Perfect Supplements for You in Just 60 Seconds
You don't need supplements to build muscle, lose fat, and get healthy. But the right ones can help. Take this quiz to learn which ones are best for you.
Take the Quiz
What Do Deep Squats Look Like?
Here's a squat depth diagram illustrating different squat depths: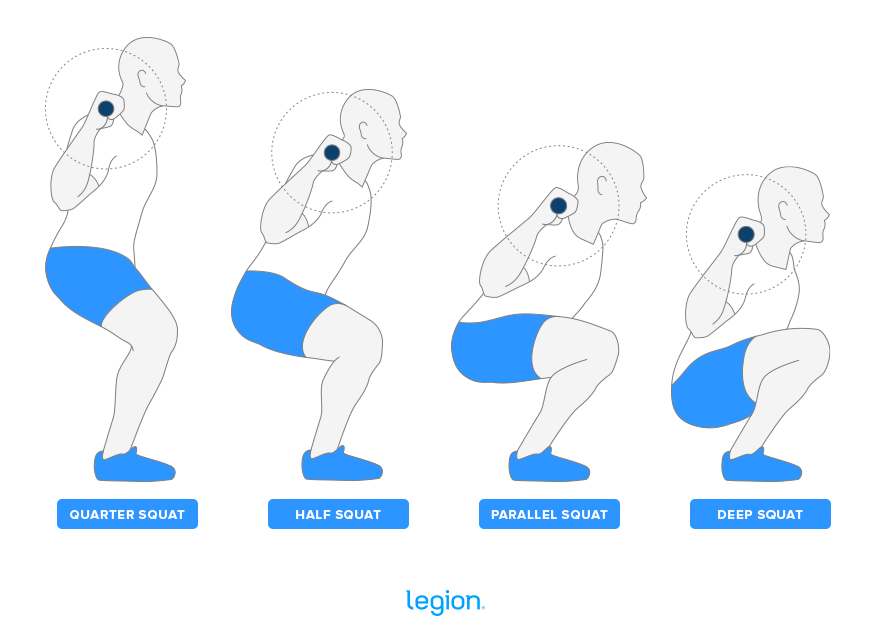 Deep Squat Benefits
There are several benefits of deep squats over shallow squats. 
For instance, research shows the deeper you squat, the more muscle and strength you gain.
A key reason for this is that deeper squats train your muscles through a longer range of motion and cause a deep squat stretch in your lower-body muscles, which is generally beneficial for muscle growth. 
Studies also show that deeper squats activate the glutes to a greater extent, a boon for those seeking to emphasize glute growth. Likewise, your lower back profits from deep squats because it has to work harder to maintain an upright posture, which means it gets stronger than when doing shallow squats.
Lastly, the deeper you squat, the more force your lower-body muscles have to generate, which means deep squats are likely better than shallow squats for athletes looking to improve their performance on the field, track, or court.  
Deep Squat: Form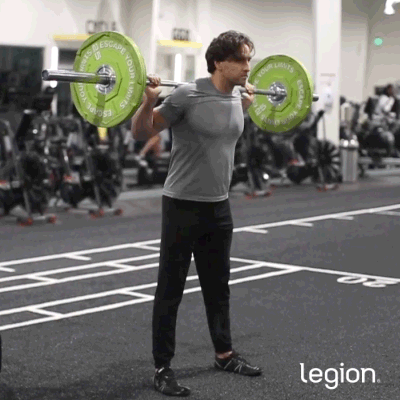 Position a barbell in a squat rack at about the height of the top of your breastbone.

Step under the bar, pinch your shoulder blades together, and rest the bar directly above the bony ridges on the bottom of your shoulder blades.

Lift the bar out of the rack, take one or two steps backward, and place your feet a little wider than shoulder-width apart, with your toes pointing slightly outward.

Sit down and remember to keep your back straight and push your knees out in the same direction as your toes throughout each rep. Keep sitting down until your hips are 1-to-2 inches below your knees.

Stand up and return to the starting position.
Find the Best Diet for You in Just 60 Seconds
How many calories should you eat? What about "macros?" What foods should you eat? Take our 60-second quiz to get science-based answers to these questions and more.
Take the Quiz
How Deep Should You Squat?
There are clear benefits of deep squats, which is why you should always squat as deeply as you comfortably can.
However, if you find deep squats cause discomfort but shallow squats are comfortable, don't feel too guilty about cutting your squatting depth short. 
While shallow squats aren't quite as effective as deep squats, they still help you gain leg strength (though only in the range of motion you train), which means you can still build muscle and improve athletic performance performing shallow squats. 
Also, don't mind "movement gurus" who claim everyone can perform deep squats if they're diligent about stretching and mobility exercises. This isn't always the case.
The depth of your squat is largely delimited by the angle and depth of your hip joint. 
Typically, folks with deeper hip sockets (sometimes referred to as "Celtic" or "Scottish" hip, as this is more common in people of Northern European descent) have trouble doing very deep squats.
Conversely, those with shallow hip sockets (sometimes referred to as "Dalmatian hip," as this is more common among people of Eastern European descent) generally have an easier time squatting deep. 
Thus, you should squat as deep as your anatomy allows or as deep as you can without discomfort.
Ideally, this would be parallel or slightly deeper, but don't force it if, for you, it's not possible. 
If you like training tips like this and want an even more in-depth guide to how you should train to build your best body ever, check out my fitness books for men and women, Bigger Leaner Stronger and Thinner Leaner Stronger.
(Or if you aren't sure if Bigger Leaner Stronger or Thinner Leaner Stronger is right for you or if another strength training program might be a better fit for your circumstances and goals, take Legion Strength Training Quiz, and in less than a minute, you'll know the perfect strength training program for you. Click here to check it out.)
FAQ #1: Are deep squats bad for your knees?
All squats—whether deep, parallel, or shallow—place the same stress on your knees.
Therefore, deep squats are no worse for your knees than other types of squats.
In fact, many weightlifters believe squatting to parallel or lower is safer than shallower squats because it lets your hamstrings contribute more, relieving some of the stress on your knees and preventing you from using weights too heavy for your joints to handle safely.
While this is an interesting and plausible stance, I'm unaware of any research supporting it. 
FAQ #2: What is powerlifting squat depth?
Powerlifting squat depth standards can vary from one federation to another, but the benchmark for many, including the International Powerlifting Federation (IPF), is "below parallel."
This means you're only in the clear if your hip crease goes lower than the top of your knee.
In most cases, this happens when your knee bends to around 120 degrees or more, although it can vary depending on your squatting technique. For example:
A wide-stance, low-bar squat where your knees don't extend much over your toes allows you to reach parallel with less knee bend.

A narrow-stance, high-bar squat, where your knees extend well over your toes, calls for more knee bend to hit parallel.
Some Nutritionists Charge Hundreds of Dollars for This Diet "Hack" . . .
. . . and it's yours for free. Take our 60-second quiz and learn exactly how many calories you should eat, what your "macros" should be, what foods are best for you, and more.
Take the Quiz
FAQ #3: Can I learn how to improve squat depth?
You can learn how to squat deeper if your only issue is you lack flexibility.
But if your body isn't built for deep squatting, you might never get to a full squat.
If flexibility is the issue, working on hip and ankle mobility can help most folks squat deeper.
To learn how to improve your hip and ankle mobility, check out this article:
How to Improve Flexibility and Mobility for Squatting
+

Scientific References
Bloomquist K, Langberg H, Karlsen S, Madsgaard S, Boesen M, Raastad T. Effect of range of motion in heavy load squatting on muscle and tendon adaptations. European Journal of Applied Physiology. 2013;113(8):2133-2142. doi:https://doi.org/10.1007/s00421-013-2642-7
Weiss LW, Frx AC, Wood LE, Relyea GE, Melton C. Comparative Effects of Deep Versus Shallow Squat and Leg-Press Training on Vertical Jumping Ability and Related Factors. The Journal of Strength & Conditioning Research. 2000;14(3):241-247. https://journals.lww.com/nsca-jscr/Abstract/2000/08000/Comparative_Effects_of_Deep_Versus_Shallow_Squat.1.aspx
McMahon GE, Onambélé-Pearson GL, I. Morse C, Burden AM, Winwood K. How Deep Should You Squat to Maximise a Holistic Training Response? Electromyographic, Energetic, Cardiovascular, Hypertrophic and Mechanical Evidence. www.intechopen.com. Published May 22, 2013. Accessed June 26, 2023. https://www.intechopen.com/chapters/44165
Schoenfeld BJ, Grgic J. Effects of range of motion on muscle development during resistance training interventions: A systematic review. SAGE Open Medicine. 2020;8(8):205031212090155. doi:https://doi.org/10.1177/2050312120901559
Caterisano A, Moss RF, Pellinger TK, et al. The effect of back squat depth on the EMG activity of 4 superficial hip and thigh muscles. Journal of Strength and Conditioning Research. 2002;16(3):428-432. Accessed June 26, 2023. http://www.ncbi.nlm.nih.gov/pubmed/12173958
Kubo K, Ikebukuro T, Yata H. Effects of squat training with different depths on lower limb muscle volumes. European Journal of Applied Physiology. Published online June 22, 2019. doi:https://doi.org/10.1007/s00421-019-04181-y
Gorsuch J, Long J, Miller K, et al. The Effect of Squat Depth on Multiarticular Muscle Activation in Collegiate Cross-Country Runners. Journal of Strength and Conditioning Research. 2013;27(9):2619-2625. doi:https://doi.org/10.1519/jsc.0b013e31828055d5
Esformes JI, Bampouras TM. Effect of Back Squat Depth on Lower-Body Postactivation Potentiation. Journal of Strength and Conditioning Research. 2013;27(11):2997-3000. doi:https://doi.org/10.1519/jsc.0b013e31828d4465
Rhea MR, Kenn JG, Peterson MD, et al. Joint-angle specific strength adaptations influence improvements in power in highly trained athletes. Human Movement. Published January 2016. Accessed June 23, 2023. https://www.termedia.pl/Joint-angle-specific-strength-adaptations-influence-improvements-in-power-in-highly-trained-athletes,129,32482,0,1.html
Hartmann H, Wirth K, Klusemann M, Dalic J, Matuschek C, Schmidtbleicher D. Influence of Squatting Depth on Jumping Performance. Journal of Strength and Conditioning Research. 2012;26(12):3243-3261. doi:https://doi.org/10.1519/jsc.0b013e31824ede62
Beyond Butt Wink: Hip Shape, Injuries, and Individual Ability Part 1. DeanSomerset.com. Published May 18, 2015. Accessed June 26, 2023. https://deansomerset.com/beyond-butt-wink-hip-shape-injuries-and-individual-ability-part-1/
Hartmann H, Wirth K, Klusemann M. Analysis of the Load on the Knee Joint and Vertebral Column with Changes in Squatting Depth and Weight Load. Sports Medicine. 2013;43(10):993-1008. doi:https://doi.org/10.1007/s40279-013-0073-6
Flores V, Becker J, Burkhardt E, Cotter J. Knee Kinetics during Squats of Varying Loads and Depths in Recreationally Trained Females. Journal of Strength and Conditioning Research. Published online March 2018:1. doi:https://doi.org/10.1519/jsc.0000000000002509
Cotter JA, Chaudhari AM, Jamison ST, Devor ST. Knee Joint Kinetics in Relation to Commonly Prescribed Squat Loads and Depths. Journal of Strength and Conditioning Research. 2013;27(7):1765-1774. doi:https://doi.org/10.1519/jsc.0b013e3182773319