Knee sleeves can be a valuable asset to your lower-body workouts.
The right pair can enhance your performance, reduce your risk of injury, and significantly improve comfort during heavy squats, deadlifts, lunges, and so forth.
However, before investing in knee support sleevesit's crucial you find a pair well-suited to your goals.
In this guide, you'll learn the best knee sleeves for various types of training such as powerlifting, CrossFit, and squatting, to ensure you get the ideal pair.
(Affiliate Disclosure: All products we review reflect the research and opinion of our editors. We sometimes receive the products we review for free, and when you make a purchase using the links in this article, we may earn an affiliate commission at no extra cost to you.)
The Best Knee Sleeves
Best Knee Sleeves Overall: Stoic
Best Powerlifting Knee Sleeves: SBD
Best Knee Sleeves for Weightlifting: Rehband
Best Knee Sleeves for Squats: Inzer
Best Knee Sleeves for Running: Neenca
Find the Perfect Supplements for You in Just 60 Seconds
You don't need supplements to build muscle, lose fat, and get healthy. But the right ones can help. Take this quiz to learn which ones are best for you.
Take the Quiz
Best Knee Sleeves Overall: Stoic Knee Sleeves






The Stoic knee sleeves are our top pick overall because they're highly supportive, comfortable, and built to last, which is everything you want from a knee sleeve.
They're crafted from 7 mm ultra-high density neoprene that offers exceptional compression and helps you "pop" out of the hole during squats, and 11.8″ long, ensuring your entire knee is supported.
Unlike most knee sleeves for liftingthey also feature just one triple-reinforced seam that runs down the back of the sleeve for improved comfort and durability (fewer seams mean fewer places to aggravate your skin) and non-slip panels on the top and bottom of the lining, which hold the sleeves in place even during sweaty workouts.
For those passionate about heavy strength training, these sleeves are unparalleled.
Specs
Use:

Powerlifting, strongman, bodybuilding, general strength training
Sizes: Sizes:

3XS through 5XL (9-to-10 inches through 19-to-20 inches)
Pros
High-quality materials

Great for use in competition

Single, triple-reinforced seam for comfort and durability

Non-slip panels for a more secure fit

Highly supportive

Excellent compression
Cons
Find the Best Diet for You in Just 60 Seconds
How many calories should you eat? What about "macros?" What foods should you eat? Take our 60-second quiz to get science-based answers to these questions and more.
Take the Quiz
Best Powerlifting Knee Sleeves: SBD 7 mm Knee Sleeves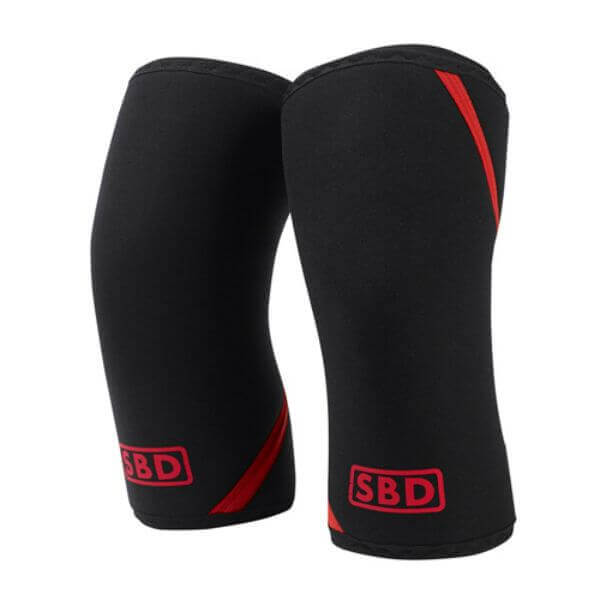 SBD makes perfect powerlifting knee sleeves: they're approved by all notable powerlifting organizations (IPF, USAPL, and USPA) and made from 7 mm premium neoprene, which is uniquely firm, providing excellent stability during heavy lower-body training and rebound out of "the hole" (the bottom position) while squatting.
Additionally, their tapered design ensures a comfortable and secure fit, even during long, sweaty workouts, and their reinforced stitching is built to endure years of use.
Perhaps the only downside is the price: SBD knee sleeves are a premium product, something their price tag reflects. That said, their superior durability means you won't need a replacement for years, making them a justifiable investment.
Specs
Use:

Powerlifting, weightlifting, strongman, bodybuilding
Sizes:

3XS through 5XL (9-to-10 inches through 18.9-20.3 inches)
Pros
High-quality materials

Extremely durable

Comfortable, secure fit

Highly supportive

Great for use in competition
Cons
Best CrossFit Knee Sleeves: Gymreapers 7 mm Knee Sleeves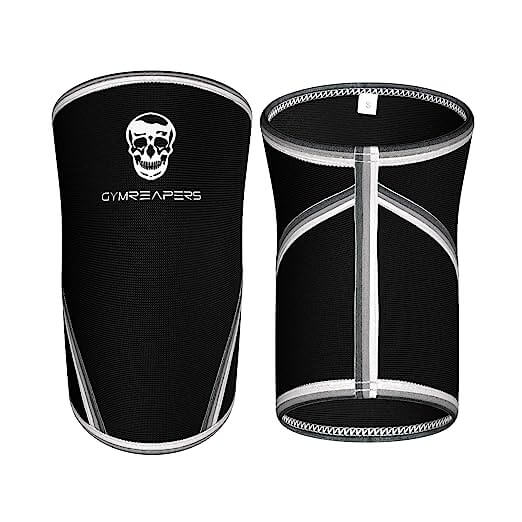 Gymreapers 7 mm knee sleeves are made from premium neoprene that's more supple than the neoprene used for most other 7 mm knee sleeves. The added flexibility means they're supportive without being restrictive, making them ideal for exercises that involve lots of movement, such as CrossFit or circuit training.
They're also slightly shorter than other knee sleeves and feature a contoured fit (they conform to the curve of your knee), which makes them more comfortable.
If a top-end compression knee sleeve is what you're looking for, the Gymreapers sleeves might not be your best choice. However, these sleeves are ideal if you want a supportive one knee sleeve that allows you to move freely at a reasonable price.
Specs
Use:

CrossFit, Olympic weightlifter, bodybuilding, circuit training
Pros
Supportive but flexible

Short, which allows for freedom of movement

Good value for money

Several colors to choose from
Cons
Not as rigid or supportive as other 7 mm knee sleeves

The contoured design may not suit everyone's preference
Best Knee Sleeves for Weightlifting: Rehband 7084 Knee Sleeves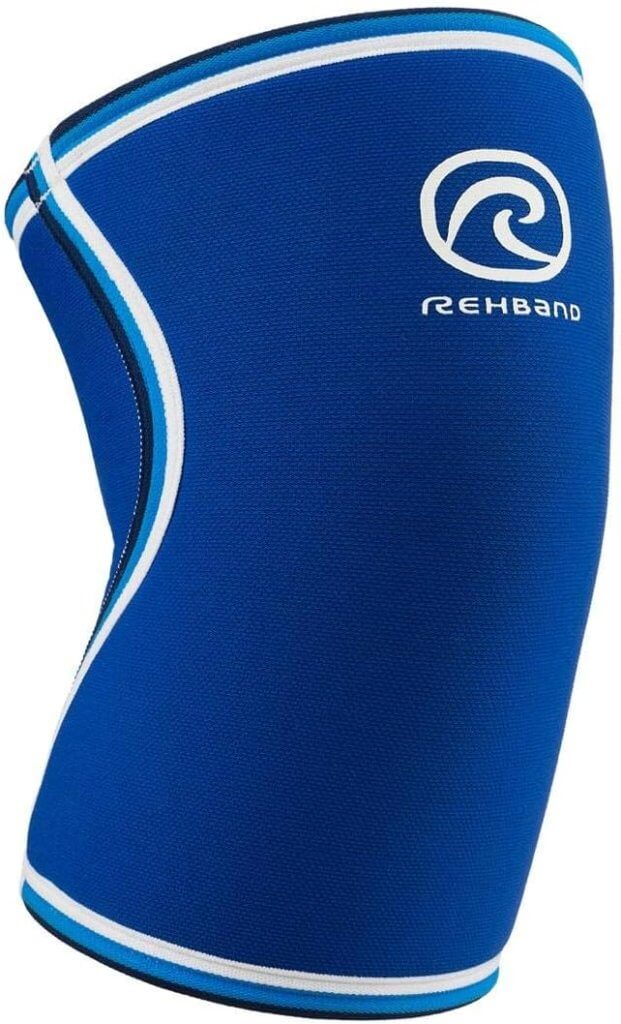 The Rehband 7084 knee sleeves strike a balance between compression and flexibility, making them well-suited for weightlifters seeking robust support without sacrificing range of motion.
They're made from high-quality neoprene that compresses your knees and helps retain heat, potentially reducing injury risk. Their contoured design also helps prevent them from slipping during your workouts.
The biggest drawback of the Rehband Rx weightlifting knee sleeves is the price. With each sleeve priced near $50 (sold individually), they rank among the most expensive options. They're made well and will take a beating, but it's hard to justify the price against the Stoic and SBD knee sleeves listed earlier.
Specs
Use:

Weightlifting, powerlifting, bodybuilding, CrossFit
Materials:

SBR and Neoprene
Sizes:

2XS through 2XL (11.4-to-12.2 inches through 17.1-to-18 inches)
Pros
Provide excellent support without limiting flexibility

Retain heat, potentially lowering injury risk

Durable material
Cons
Expensive

Each

knee sleeve

sold individually
Best Knee Sleeves for Squats: Inzer ErgoPro Knee Sleeves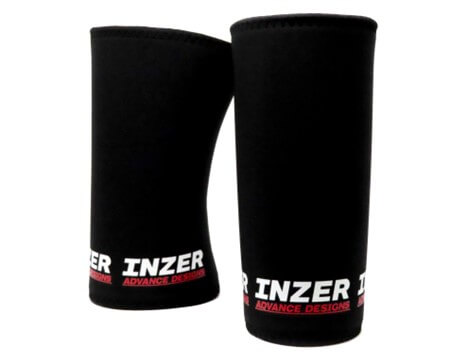 The Inzer ErgoPro knee sleeves are somewhat controversial. They're made of exceptionally rigid neoprene, which makes them challenging to put on, almost impossible to remove, difficult to walk in, and uncomfortable.
Furthermore, they don't bend to the contours of your leg, which means most people notice a large gap between their shin and the sleeve when they're at the bottom of the squat, which can be distracting (at least initially).
Inzer can be a tricky company to deal with, too—you often have to wait several weeks to receive your goods, even after paying hefty shipping costs.
And on top of that, they're easily the priciest sleeves on this list.
Why would anyone buy the Inzer knee sleeves?
Because they offer unparalleled support and rebound while squatting (almost like you're wearing knee wraps), making them excellent squat knee sleeves for those looking to maximize their squat strength or set new PRs on the platform. If you aren't single-mindedly focused on squatting as much as possible, though, then you'd be better off with a different neoprene knee sleeve from this list.
Specs
Sizes:

XS through 4XL (11-to-12.5" through 20+")
Pros
Heavy-duty material

Very durable

Extremely rigid

Offer excellent rebound out of the hole
Cons
Expensive

Uncomfortable

Difficult to put on and take off

Difficult to walk in
Some Nutritionists Charge Hundreds of Dollars for This Diet "Hack". . .
. . . and it's yours for free. Take our 60-second quiz and learn exactly how many calories you should eat, what your "macros" should be, what foods are best for you, and more.
Take the Quiz
Best Knee Sleeves for Running: Neenca Professional Knee Sleeve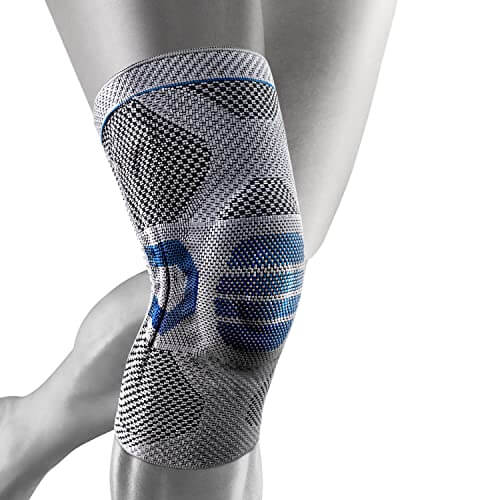 The Neenca knee brace stands out among knee compression sleeves because it features a unique gel pad that fits around the patella (knee cap), which evenly distributes pressure around the knee while running.
It also has metal spring stabilizers that run down each side of your knee to increase support, and a non-slip strip at the top opening, which secures it in place and prevents it from slipping while you run.
The high-elastic fabric is compressive without being restrictive, breathable, and fast drying, making it comfortable to wear for long periods.
Given that most people wear the Neenca compression knee sleeve during long runs, getting the correct size is crucial; going too big can cause the material to bunch behind your knee and chafe your skin. To avoid this, follow the sizing instructions carefully, and if you're on the borderline between sizes, opt for the smaller of the two.
Specs
Use:

Running, injury recovery, everyday use
Material:

‎82% Nylon, 10% Polyester, and 6% Spandex
Sizes:

S through 3XL (12.2"-to-13.8" through 23.6"-to-37.6")
Pros
Compress without being restrictive

Increases knee and patella stability while running

Comfortable
Cons
Can be uncomfortable if you get the wrong size

The patella pad and side supports can take getting used to